FireTV + Kodi
The Ultimate Cord Cutter Package!
An exclusive from The Gulf Coast Geek that includes everything you need to have a complete home theater experience with the Amazon FireTV
Was $129.95  –

Now $109.95

with free shipping while supplies last.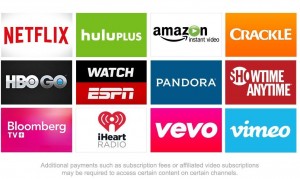 This Amazon Fire TV was only opened to add Kodi (XBMC) and is BRAND NEW. 
Amazon Fire TV is a tiny box you connect to your HDTV. It's the easiest way to enjoy over 200,000 TV episodes and movies on Netflix, Amazon Instant Video, and HBO GO, plus games, music, and more.

With voice search, simply say the name of what you want to watch and start enjoying in seconds – not available for Kodi app.


2 GB of memory, dedicated GPU, 1080p HD video, Dolby Audio surround sound, and Android-based Fire OS

Fast quad-core processor and expandable USB storage for playing best-selling games like Minecraft, Game of Thrones, Crossy Roads, and more

Fire TV lets you fling your favorite apps to your TV to free up your small screen for other uses. Or mirror your phone or tablet to your TV.

You need to have an Amazon account for the stick to work. If you do not already have one, it is a simple free registration.


Amazon Prime customers get unlimited access to popular movies and TV shows with Prime Instant Video, including The HBO Collection and original shows like Transparent, plus Prime Music

And with the Kodi application added, you'll be able to access commercial free streamed TV as well as Movies – even new releases.

Sports Nut? With Kodi, watch your favorite team with no blackouts!
Item comes with all original accessories including power cable, remote and original box.
This device is untethered so it is just plug and play. Simply connect to power, HDMI and Wi-Fi, log into Amazon and you are ready to go! 
Includes a few of the most popular add-ons such as Genesis, Phoenix, 1Channel and IceFilms. These will give you access to stream virtually any movie or TV show.
There are hundreds of additional add-ons that can be enabled and installed based on your personal preference. Simple set-up and instructions on how to enable / disable add-ons will be included for your convenience.
Device is running on Kodi 14.2 Helix (latest version of KODI!) Kodi is the newest version of XBMC. 
All content is up to date and set up to update automatically without any hassle. 
All content is streamed to your TV (nothing you watch is downloaded).
Device features a dual core processor which allows for fast and smooth content streaming and playback. 
DO NOT HIT CLEAR DATA ON THIS DEVICE. DOING SO WILL ERASE EVERYTHING. REINSTALL FEE IS $25 + SHIPPING.
Important Information:
Not all add-ons will work all the time. Add-ons will occasionally go down for repair or updates and they sometimes can take weeks to come back up. 
I do not guarantee any apps, add-ons or content. This is not a TV service company. I am advertising the content which are available through the add-ons. If you agree with these terms, please purchase!
Kodi:
Kodi is a free and open source media player application developed by the XBMC Foundation, a non-profit technology consortium. Kodi is available for multiple operating-systems and hardware platforms, featuring a 10-foot user interface for use with televisions and remote controls. It allows users to play and view most videos, music, podcasts, and other digital media files from local and network storage media and the internet.
You need to have an Amazon account for the stick to work. If you do not already have one, it is a simple registration and is free of charge.